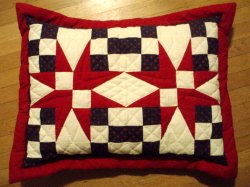 54-40 or Fight is a quilt block named after the 1844 slogan "Fifty-Four Forty or Fight!" Women used to make quilts with political views. This refers to the latitude 54 degrees, 40 minutes Oregon boundary dispute.
Solid red, midnight blue print, and natural muslin cottons.
Two pillow shams were machine-pieced and hand-quilted. Some piecework was started, but quilt has not been completely cutout and pieced, yet.
Pillow Shams
Width: 28.5"
Height: 21.5"