Men's Purple Print Satin Vest 44" $60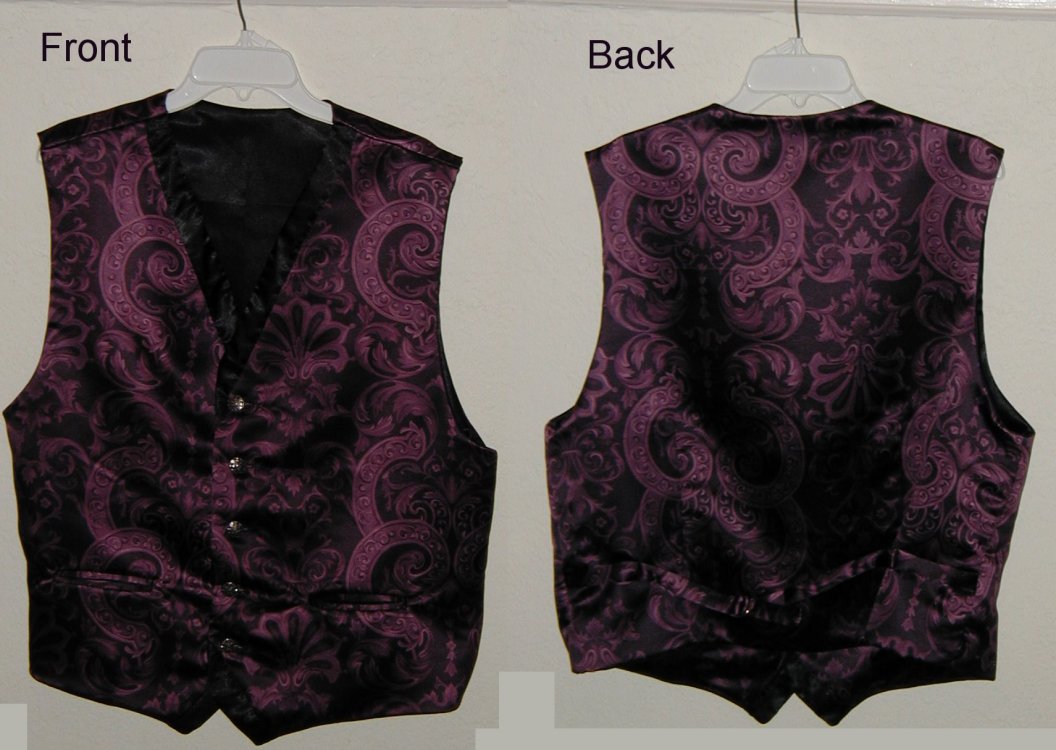 My original intent was to make a tall boy vest because I know of some very nice tall boys who do not sew much and who like pretty clothes especially in purples and blacks. But, as I started to layout the fabric Big Boy (when boys tell you to call them "Big Boy" it's best not to argue and just go along with it) said that I should make the largest size on the pattern.
"No," I said, "I'm going to make a tall boy vest." And I started to spread pattern pieces out.
"It's not going to fit," said Big Boy. "And the beautiful large print would be wasted on a thin man."
Sure enough, if I added 4" in length for a tall boy vest then I wouldn't have quite enough fabric to make a complete vest and would have to use lining for the back which is not quite as nice as having beautiful purple satin print for both the front and back. I started to decide that having a black satin back wouldn't be all that bad, but Big Boy wouldn't hear of it. He kept pestering me and finally to appease him I said that if the largest size would fit on the fabric that I would make it. To my surprise, the largest size did fit, both front and back. So I made Big Boy.
The fabric on Big Boy is a purple on purple satin print with black satin trim and lining. Big Boy is not for men with rough hands or for men with lots of jewelry because the printed satin will snag. I wouldn't call Big Boy delicate, but he is a bit fine.
An aside about size:
I thought the largest size in the pattern was a 42" and was convinced that I was making a 42" vest which really is not *that* big of a boy but then saw that the largest size on the pattern was a 44". And then when I took a measuring tape out to, um, measure him, Big Boy appeared to be 47". Big Boy, indeed. I don't know how Vogue's patterns run, but my guess is that the 44" will be comfortable to a bit roomy for someone who wears a 44" chest.
Big Boy aka Men's Purple Print Satin Vest 44"
New (never worn)
Print is purple on dark purple
Black satin trim near neck and lower front edge
Fully lined
Two front welt pockets
D-ring tie in back
Purple print continues on back of vest so can wear vest without a jacket
Finished measurement under vest armholes is max 47"
Silver tone buttons
Mostly polyester with a cotton interlining on the front.
Vogue pattern V8048 View D Size 44
$60
Part of the song "Big Boy" goes something like this:
There he goes
Look at the clothes on Big Boy, that's Big Boy.
There's a man who certainly can make love.
Women weep and talk in their sleep
'bout Big Boy, sweet Big Boy.
Pearly teeth, curly hair,
he's the answer to any maiden's prayer.
See that chest, look at the rest
of Big Boy, that's Big Boy.
Big or small, they certainly fall for him.
Completed: 2005