Pink printed striped cotton 1700s a la polonaise for PEERS February 2010 with a purchased drag queen wig. Worn to GBACG's Petite Trianon event in July 2011. Then it was worn to GBACG Carnivale event with a mask and shoes in February 2014.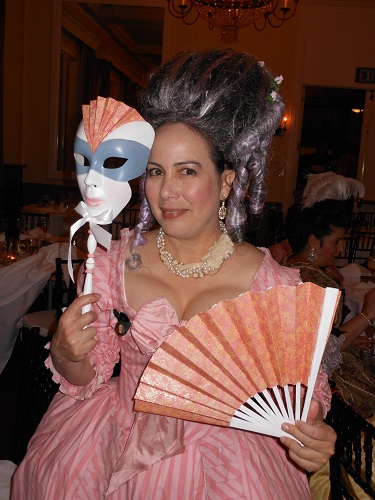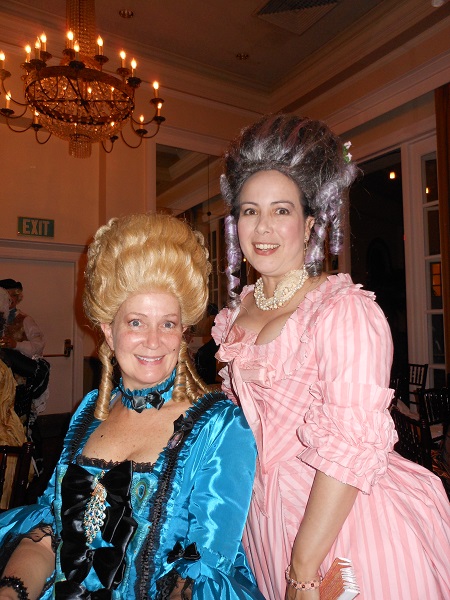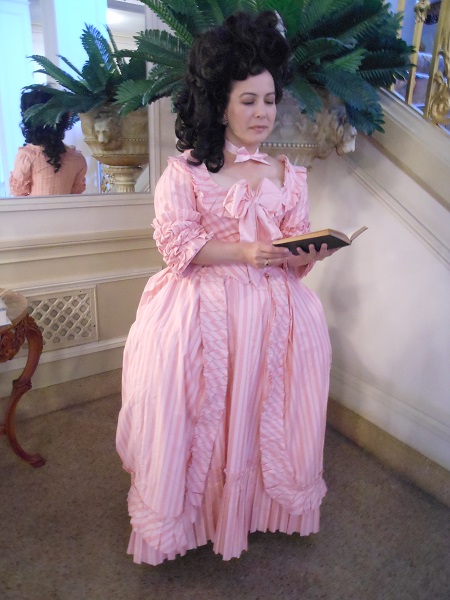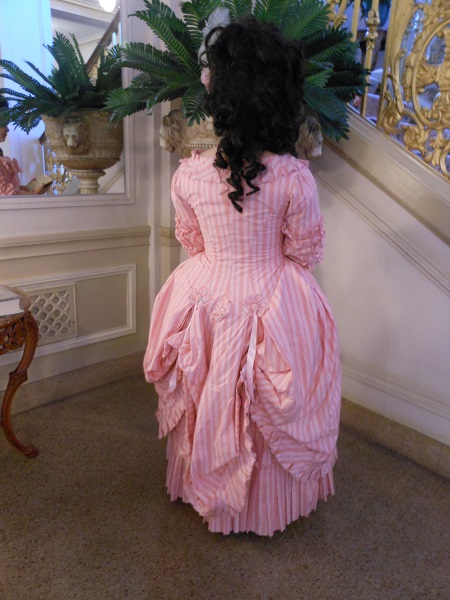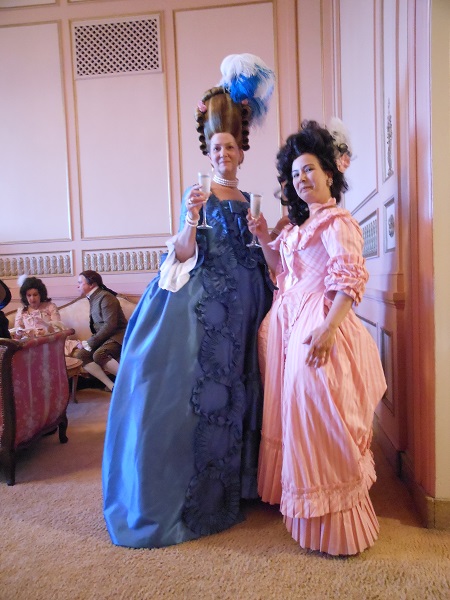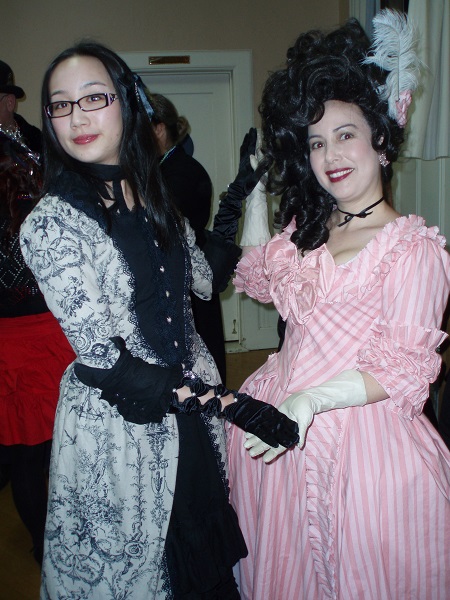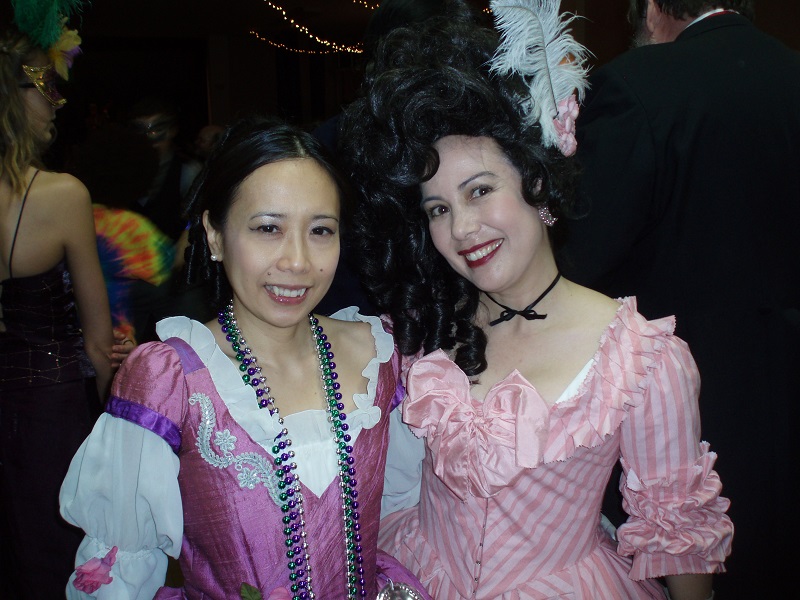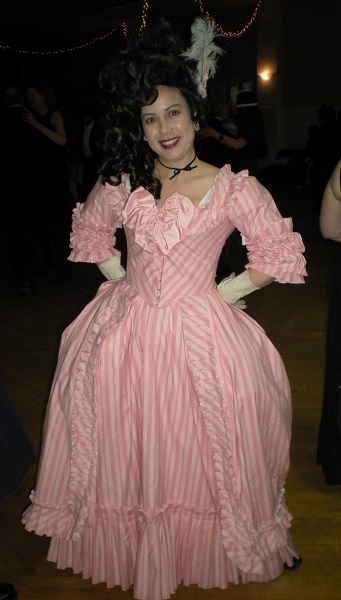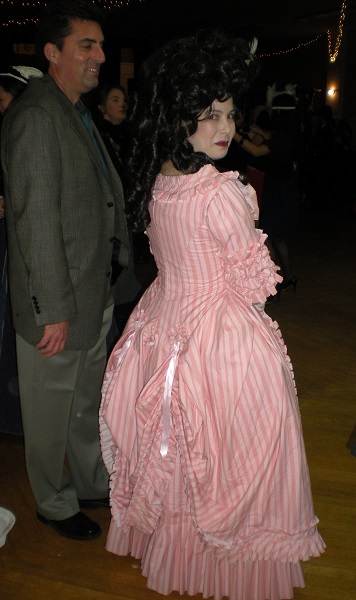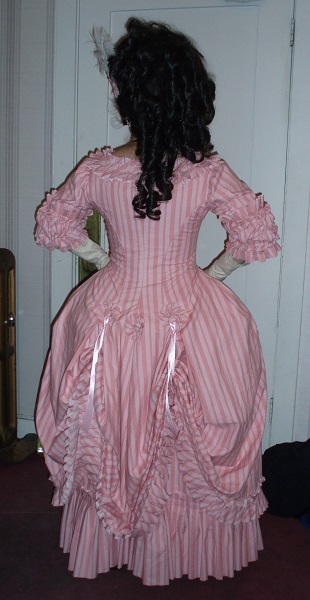 Close enough to done
[20100206]With timely visit, took her advice and sewed most of the trim with transparent thread since handsewing was going to take too long. Added trim to skirt. Made sleeves and Frankentsteined some fabric pieces together to make the sleeve lining. Tore out and redid the front skirt to bodice pleats. Sewed back hooks and eyes and added placket. Made rosettes for back buttons. Made oversleeve. Added silk bow.
Uh oh, not enough time
[20100205]
Pinned on the trim. Made a petticoat which needs trim. Still need to make sleeves. Just handsewing the trim would probably take too long. A few of the hooks and eyes need repositioning. Also, I probably should tear out and redo the front skirt to bodice pleats. Not enough time left to do all that. I don't mind the wrinkles on the back sides so much because the fashion plate also had wrinkles there.


Five hours of handsewing
[20100204]During the five hours waiting for my car to be serviced, I handsewed the neck binding (forgot to bring pink thread, so black thread shows on inside), sewed skirt pleating to bodice, sewed the hooks (didn't have eyes) to one side of the bodice, and handsewed with a quilting sort of stitch the hand box pleated trim. Kind of want to finish the trim even though it would probably make more sense to add sleeves and make the petticoat so it will at least be wearable.


Fashion Fabric Sewn
[20100203]Bag-lined the hemline and then flat-lined the rest of the bodice area. Two bones on each side of the front bodice pieces. Skirt and pleats are pinned to bodice. Sample trim pinned on.

Pinning and sewing lining/mock
[20100202]After cutting out and sewing the lining/mock, I tried it on the corsetted dressform and pinned where it needed to be taken in. Also pinned up to see what might look like ribboned up. Then I procrastinated with a long break that included calling a friend and inviting myself over to play Wii Resort. Sewed the new seams. I hate fitting things, but put on the chemise, corset, pockets, paniers and tried it on. Decided it was good. Ripped out seams while watching Lost and started cutting out some of the fashion fabric. But the fashion fabric is not as wide and some errors may have been made. I am still wearing the undergarments. I don't want to take them off because I know I'll need to just put them back on again tomorrow. But trying to sleep in a caned cone and paniers is probably not a good idea. That quart of night sweat might loosen things up or if I'm flying around in my dreams and roll out of bed, I might break some canes. Feh, fittings.


Starting dress for Saturday
[20100202]Trying to make a pink a la polonaise for Saturday PEERS www.peers.org. Trying to make a pattern using newspaper. Next up - lining/mock. (That pink petticoat is just fabric pinned - not sewn, yet.)

Completed: February 2010